Dracaena Rikki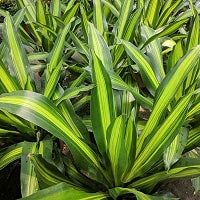 Name: Dracaena fragrans 'Rikki'
AKA: Gold Dust Dracaena
Why we love it: This low-maintenance plant features lime green-striped foliage. In classic Dracaena fashion, this plant thrives across a spectrum of indoor lighting environments.
Light: Moderate indirect light. This plant tolerates lower light as well.
Water: Allow the top several inches of soil to dry between waterings.
Pet Friendly? No, this is not pet-safe.

Plants are sold in their nursery pots. Ceramic pots and baskets are sold separately.